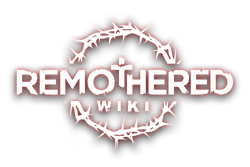 ---
---
Welcome to the Remothered Wiki, where gamers can access information everything Remothered! The long-awaited survival horror saga comes to a new life created by Chris Darril, the game is being developed and produced by Darril Arts in partnership with Stormind Games in development. As this site continues to grow, users can feel free to edit and add information to the pages as we wait for the first chapter Remothered: Tormented Fathers, which is set to be release later this year. Read the wikia's Rules and Policies first!
---
Unsure what to edit? Take a look at the links below
Insights · Uncategorized Pages · Wanted Pages · Unused Files
Community
Edit
Today's Headlines:
Loading RSS data...
Ad blocker interference detected!
Wikia is a free-to-use site that makes money from advertising. We have a modified experience for viewers using ad blockers

Wikia is not accessible if you've made further modifications. Remove the custom ad blocker rule(s) and the page will load as expected.